Our imagination to surprise and thrill you with our events is endless. From Yoga on the golf course, to stargazing picnic nights, to winter wonderland picnics, to winter golf, to tasting local brewery beers and cocktails… Who knows what we will come up with next! These are the events currently planned at Buncrana golf course!
Meditate and Paint Night
November 19th, 1-3pm
What a unique opportunity to do something different for your wellbeing!
We have collaborated with Tara Innes (Certified Meditation Teacher and Therapeutic Art Life Coach) to create something completely new and exciting.
Please join us for one hour of guided meditation with Tara, followed by a painting session reflecting on how the meditation made you feel. Tara will lead you through the process as you relax and uncover what guided your spirits.
You will be served a variety of herbal teas and snacks during your painting session.
Tickets are $60, please e-transfer your payment to tara@meditateandpaint.ca (please include your name and the date of the event).
Space is very limited, so hurry to purchase your tickets!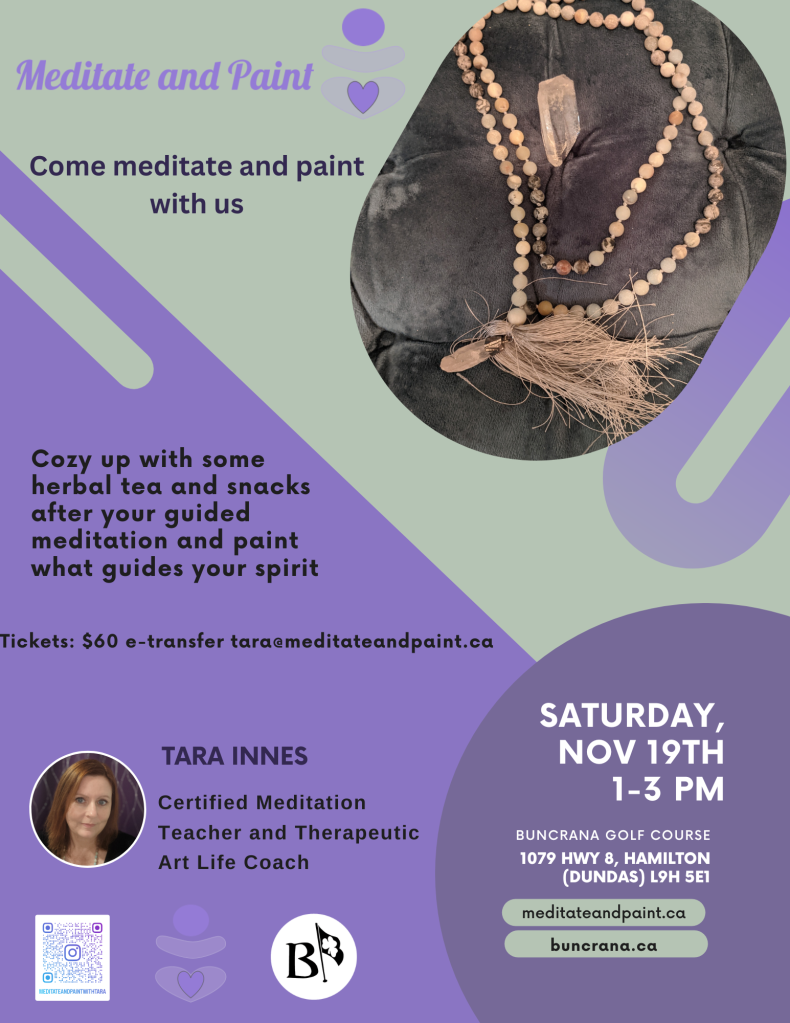 Holiday Swag Workshop
November 20th, 3-5pm
December 4th, 3-5pm
Have you heard of a door swag? Me neither, until Blue Water Flower Farm has suggested we do a workshop on that! It's basically an evergreen bouquet that you can decorate with dried fruits, ribbons, berries and anything else, tie it together and hang it upside down!
We welcome you to join us for this workshop where you can create your own variation of a swag!
All materials will be provided to you, you just need to bring your enthusiasm and creativity!
While you create, you will be offered a hot cocoa or a sparkling wine (or both?), as well as desserts and snacks.
Tickets go on sale November 1st!
The space is very limited, please register ASAP at www.bluewaterflowerfarm.ca.
Please email us at bluewaterflowerfarm@gmail.com with any specifics, allergies or for more information.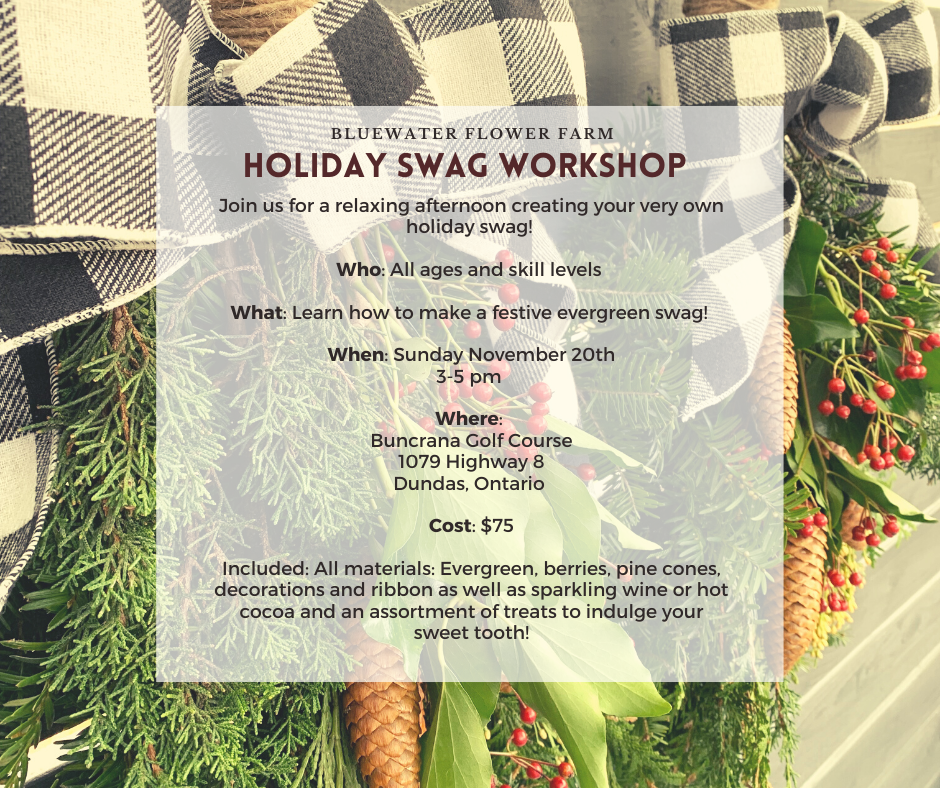 Watercolour Christmas Cards Workshop
November 25th, 6-8pm
Create your own Christmas and Holidays Cards this year!
Suitable for all ages, this workshop will teach you how to use watercolor by creating your own greeting cards, that you can gift to your family and friends!
Take home your watercolour paints, brushes and new skills to create more at home!
Sparkling wine, hot chocolate and desserts will be offered with to you while you create your art.
Tickets are $75
Please e-transfer your payment to info@buncrana.ca and write your name & date of the events in the message box.
Space is very limited, hurry up to book!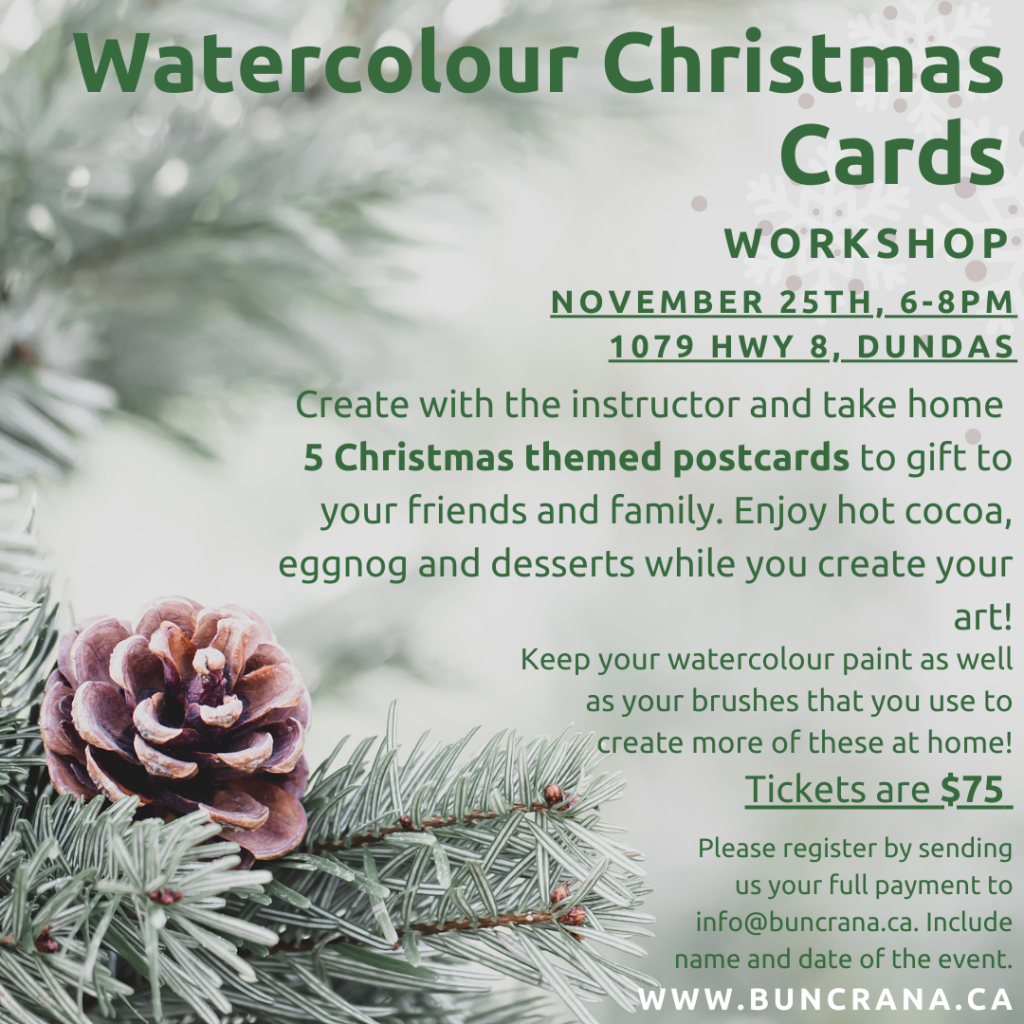 Live Edge Wood Painting Workshop
December 3nd, 1-3pm
Please join our local painter artist Andrea Thompson and let her teach you how to create a cute decor piece. Paint a charming gnome on a long slice of live edge wood (~24 inch length), which can be a great gift or a holidays decor.
All materials, as well as sparkling wine, hot cocoa, tea and desserts are going to be provided to you.
What a great way to create something with your own hands and spend some time with a mom, daughter, sister, friend or have a me day with this event!
Tickets are $90
Please email info@buncrana.ca to reserve your spot. Space is very limited!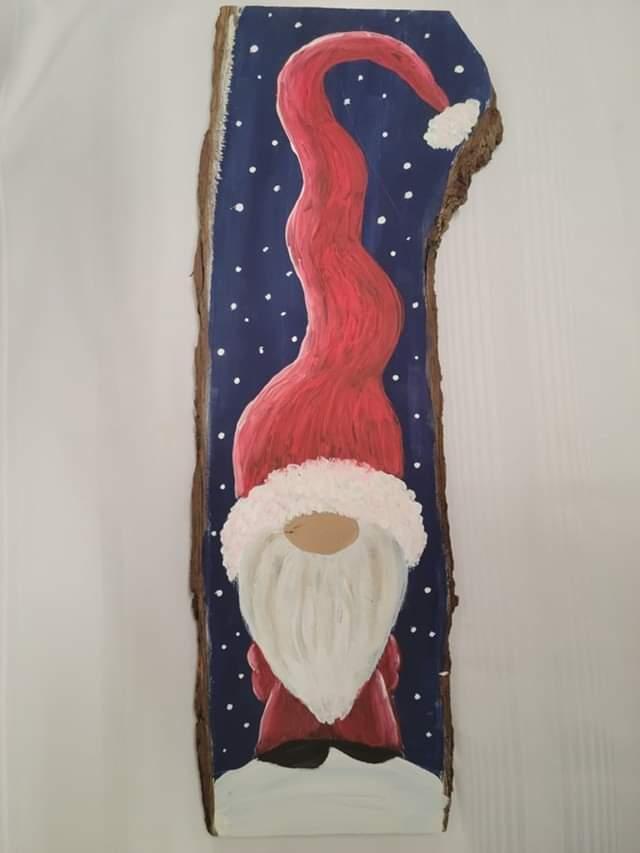 More to come…
Please check here often to see what we are planning and to gather extra information to any events you have spotted on our social media.
This is also where you will also find any cool package promotions we are running!